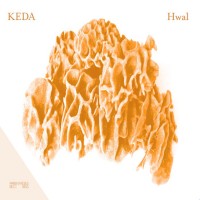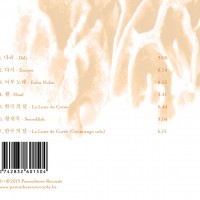 KEDA - Hwal
ArtistCatalogue Number
PREC06
Release Date
01.02.2016
Format
CD & Digital
Edition
500
Pricing
18$
KEDA is E'Joung-Ju, French-based Korean musician, master of the geomungo (the six strings traditional Korean wooden instrument) and Mathias Delplanque, renowned French electronic music composer born in Ouagadougou (Burkina Faso).

They both share an insatiable desire for novelty, experience and the desire to confront the ancestral sounds of the geomungo to textures, rhythms and electronic treatments.

Beyond the meeting of two instrumental practices separated by centuries, their creation stands out as an original form, drawing from ambient, dub, blues, African music and noise art. Hypnotic, warm, alternately dancing and meditative, their music is an imaginary folk, a unique and hybrid sonic adventure.

Hwal, meaning 'bow' in Korean, was entirely recorded live, then dissected for a whole year by Mathias Delplanque. The result of this long process represents the birth of a project meant to last; to enjoy both on stage and on disc!


The Press says:

It's a powerfully atmospheric record, and feels painstakingly crafted by Delplanque, who brings his electronics and ambient dub techniques to bear on the pungent zither statements. The Wire, UK

And both artists display remarkable finesse at their respective crafts, the music moving in and out of recognizable styles, both old and new, Eastern and Western to create a unique sonic universe. Dusted Mag, New-York

The duos' mutual restraint points up the richness in their intertextures, both play to their combined strength rather than for effect, and Delplanque's post-production is fully sensitive to the geomungo's unique timbre and attack. Dalston Sound, UK

Ja, we zijn fan van deze cd. Hij presenteert een perfect evenwicht tussen virtuositeit en klankdesign, tussen absolute duisternis en hoop, tussen oud en nieuw. Meesterwerk. Dark Entries, Belgium

In tempi come questi in cui lo scontro è sempre aperto, i Keda premono per un incontro che genera bellezza. Carnage News, Italy

Their maiden album from February, Hwal, off Brussels's intriguing Parenthèses Records, surely stands as one of the more substantial and genuinely exploratory experimental albums of the year". Foreign Accents, USA

[...]Enregistré live et longuement retravaillé en numérique par Mathias Delplanque, disons-le tout net, cette première collaboration, ce coup d'essai s'apparente à un coup de maître. Cet enregistrement sublime n'a été pressé qu'à 500 exemplaires pour le monde entier." Yves Blanc, La Planète Bleue