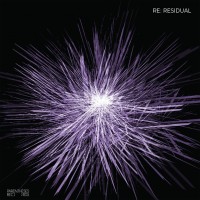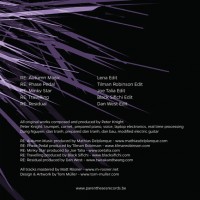 Various Artists - Re: Residual
Artist
Lena / Tilman Robinson / Joe Talia / Black Sifichi / Dan West
Catalogue Number
PREC05
Release Date
20.10.2014
Format
Digital
Edition
N/A
Pricing
Free
In 2010, Parenthèses Records released Peter Knight & Dung Nguyen's duo collaboration RESIDUAL seeing the pair developing unique approaches to combining Vietnamese and Western music elements in a contemporary setting.

At the start of 2014, Alexis Courtin from PR and Peter Knight discussed their shared desire to give the album a second life and thus asked a carefully chosen list of musicians from France and Australia to present their personal perspectives on Residual. The result is this amazing album that comes as a FREE download, blurring the boundaries between abstract ambient, repetitive experimental music and groove-based textures.

From LENA (aka Mathias Delplanque, France, Bruit Clair Records)'s proto dubby techno, Tilman Robinson's abstract ambient, Joe Talia's subtle electronica, Black Sifichi (France)'s unmistakable voice and post-musique concrète edit to Dan West 's minimal groove, Residual was given the most refined homage.

************


MORE ABOUT THE REMIXERS

Mathias Delplanque is an electronic music composer, music critic, author of sound installations, teacher, composer for theatre and dance and the founding member of several musical ensembles. He lives and works in Nantes (France) and runs the Bruit Clair label, dedicated to electronic music and sound art.

Tilman Robinson is a composer, arranger, trombonist and sound artist, working across a wide range of styles. In 2014, Tilman released Network of Lines and was subsequently nominated for the APRA|AMCOS work of the year and for two Australian Bell Awards in 2014: Best Avant-Garde/Contemporary Album and Best Australian Jazz Ensemble.

Joe Talia is a drummer, percussionist and electro-acoustic performer based in Melbourne, Australia. He first established his reputation as a drummer in contemporary jazz and improvised music, fields in which he is now active as a member of the ARIA award winning Andrea Keller Quartet and in numerous collaborative projects, including a long-term duo with Oren Ambarchi. Joe has performed, recorded and toured with Jim O'Rourke, Anthony Pateras, Boredoms, Richard Pinhas, John Duncan, Brous, Mary Halvorson, The Australian Art Orchestra, Thembi Soddell, Anthea Caddy, Sean Baxter, Robbie Avenaim, David Shea, Marco Fusinato, Rand and Holland, Adam Simmons, and Magic Mountain Band, among others. As a studio engineer, producer and mixer he has worked on records for Oren Ambarchi, Stephen O'Malley, Keiji Haino, Jim O'Rourke, Fire! and many others.

Black Sifichi is a Scottish / American spoken word artist and writer born in New York City and who now lives in Paris. DJ, radio activist and photographer, he has recorded albums and collaborated live with a multitude of artists including : The Black Dog, Ez3kiel, WEACE, The Floating Roots Orchestra, 2kilos &More, Brain Damage, Norscq, Simon Fisher Turner, Mathias Delplanque, Tempsion, Olivier Mellano, Gerome Nox, Rhys Chatham, Olivia Louvel and Paul Kendall, Oldman, Wild Shores, Rodolphe Burger, David Thomas, Lena, Ghedalia Tazartes, Sayoko Papillon, Régis Boulard, Negative Stencil, Alain Bashung, Franck Dadure, UHT, Rainier Lericolais, Mohamed Roubhi, MC Dalek, Carlo Brandt, Burnt Friedman, Rob Mazurek, Cyril Atef, Bart Plantenga, Olivier Cadiot, Dorian Darner & others…

Dan West is a Melbourne based instrumentalist, music producer and sound designer dedicated to the composition, performance and audio documentation of original music. He works in his sound laboratory (a custom designed shipping container called tweakandtwang), collaborating with a variety of musicians and other cross-disciplinary artists to create new work to bridge the digital divide; fusing organic and processed sound. His work investigates ideas of social inclusion vs. social isolation through technology; specifically as it relates to the creative process.